The New Overseas Networks & Expertise Pass Explained

A work pass was introduced on Monday, 29 August, by Manpower Minister Tan See Leng. The Overseas Networks & Expertise Pass is for talent from any sector which earns a monthly salary of S$30,000 or has outstanding achievements in science and technology, arts and culture, research and academia, or sports. Under the salary criterion, applicants must prove that they have earned a fixed monthly salary of at least S$30,000 in the last year or show that they will earn that minimum under their future employer in Singapore.
Overseas candidates will need to show that they have worked or will be working for an established Company – defined as one with a market capitalisation of at least US$500 million or annual revenue of at least US$200 million – either in their overseas role at the point of application, or future role based in Singapore. This initiative is part of plans to ensure that Singapore can compete effectively in the global fight for top talent. The government also wants to make Singapore a world-class talent pool by developing its workforce while continuing to attract talent from abroad as Singapore emerges from the pandemic into a period of economic and geopolitical uncertainties remain.
The Overseas Networks & Expertise Pass applies to all sectors. Applicants do not necessarily have to meet the S$30,000 salary criterion if they have outstanding arts, sports, science and/or academic achievements. The benchmark salary of S$30,000 is comparable to the top 5% of EP holders in Singapore. MOM will work with other agencies with relevant knowledge in these fields to identify such talent. Agencies could approach candidates with international awards, such as a Fields Medal. As a personalised pass, the new pass will not be ordinary Employment Passes (EP) which ties the applicant to the Company. The work pass holder can thus start, operate and work for multiple companies in Singapore at any time.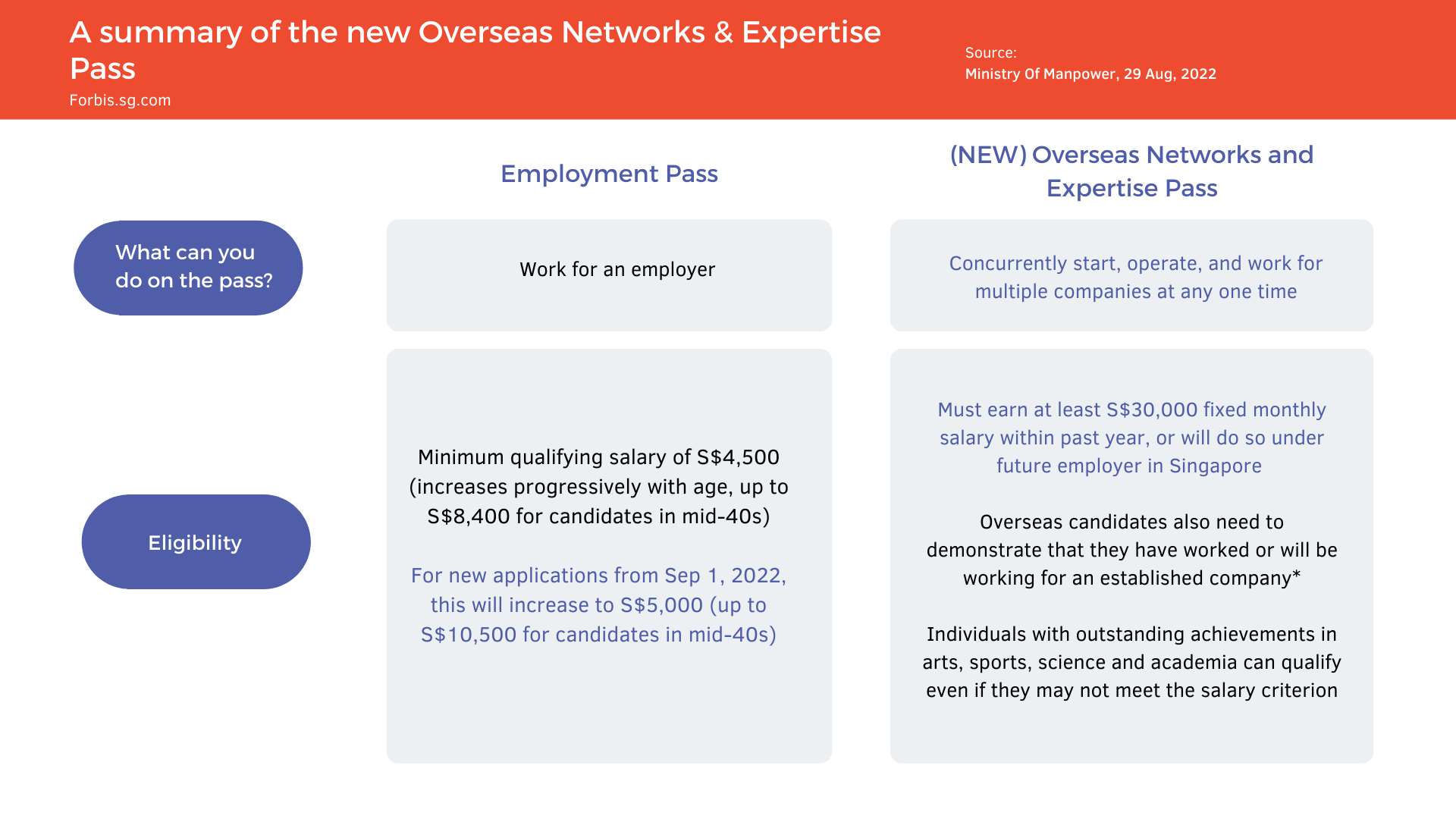 The Overseas Networks and Expertise pass is similar to the existing Personalised Employment Pass (PEP) that allows a foreigner to change employers without re-applying for an EP. The difference between PEP and Overseas networks and expertise pass holders is that PEP holders can only stay in Singapore for up to six months while in between jobs. The Overseas Networks & Expertise Pass enjoys greater flexibility since they don't have a 6-months deadline. They can also sponsor their dependents to join them in Singapore, and their spouses can work with a letter of consent. Other work passes have stricter criteria for spouses to work here.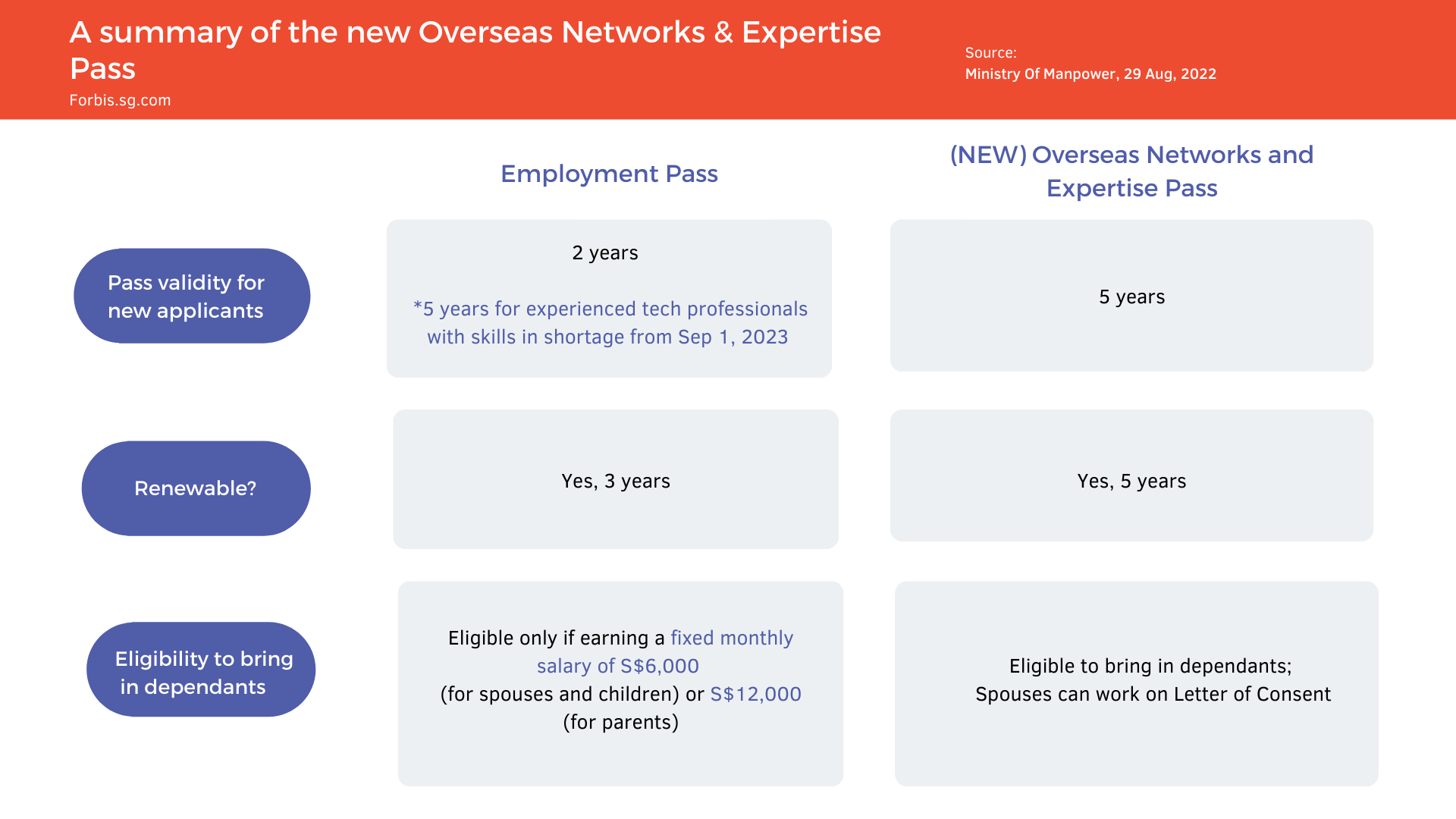 Compared to existing work passes, the Overseas Networks & Expertise Pass is valid for a more extended period – five years – compared with two years for the EP (new applicants) and three years for the PEP. Pass holders will also not be subject to the upcoming Complementarity Assessment Framework (COMPASS) – a new points system for EP applicants that will kick in from Sep 1 next year. Besides salary and the candidate's qualifications, the new system awards points based on the firm's nationality diversity and support for local employment. The top talent who qualify for the new pass would likely have been able to enter Singapore under the existing EP framework. Still, the additional flexibility strengthens Singapore's attraction as a global hub for talent.
The new ONE Pass was introduced along with other changes to Singapore's work pass framework that are designed to attract talent better and to streamline processes for companies hiring them. The Ministry of Manpower (MOM) will introduce a five-year EP to experienced professionals filling tech jobs requiring highly specialised skills currently in shortage in the local workforce. These will be specified in the upcoming COMPASS Shortage Occupation List (SOL). They also have to earn a salary of at least S$10,500 and are subject to COMPASS criteria.
Changes will also be made to the salary benchmark and work pass conditions for the top 10% of EP holders or applicants from Sep 1, 2023. This will affect advertising for a job opening under the Fair Consideration Framework (FCF) and the new COMPASS framework.
Currently, if the position's monthly salary is S$20,000 or more, companies do not have to advertise under FCF, and the candidate is exempt from COMPASS requirements. This will be adjusted upwards to S$22,500. FCF advertising refers to a requirement for companies to advertise a job opening for a specified period before hiring a non-local. The salary benchmark for the PEP will also be adjusted to S$22,500, up from S$18,000 as of Sep 1 next year.