Expatriate Cost of Living in Singapore
Singapore, a city-state in South-East Asia, is widely recognised as a popular destination for expatriates, with nearly 29% of its population composed of individuals from foreign countries. This bustling metropolis offers a remarkable quality of life, combining a tropical climate with abundant conveniences and comforts in a major urban center. Singapore is known for being one of the most expensive cities in the world. The cost of living in Singapore can vary depending on various factors such as accommodation, lifestyle choices, and personal preferences. 
Compared to other countries, the cost of living in Singapore is considerably higher. However, you can still have a high-quality lifestyle in the country. You can fully enjoy everything Singapore offers with a decent salary and careful budgeting. Based on data from 2022, the cost of living in Singapore is approximately 39.1% higher than in the United Kingdom. While the prices of consumer goods and daily necessities are generally lower in Singapore compared to Western countries, rental prices significantly contribute to the high cost of living. On average, rent in Singapore is almost three times more expensive than in the UK, amounting to an increase of around 181%.
Fortunately, skilled workers can expect to earn a good salary in Singapore, which helps manage the cost of living. The median monthly salary in Singapore in 2022 was S$5,070, equivalent to U$3,755. The median salary for those with a degree as the highest qualification is S$8,190 or U$6208. This guide aims to inform you about the cost of living in Singapore as an expatriate. Here are some key aspects to consider regarding the cost of living for an expat in Singapore:
Accommodation
Renting in Singapore can be costly due to its limited space and high population. However, there are opportunities to find affordable yet luxurious accommodations. The central neighborhoods of Orchard Road, Tanglin, River Valley, Holland Village, Thomson, and Serangoon are popular among expats, although they are also the most expensive areas.
Singapore is one of only seven Alpha+ cities recognised by the Globalization and World Cities Research Network, guaranteeing excellent accommodation options throughout the city. Rental prices in Singapore can vary significantly depending on the apartment size. Here are the approximate maximum and minimum average monthly rents for different apartment sizes: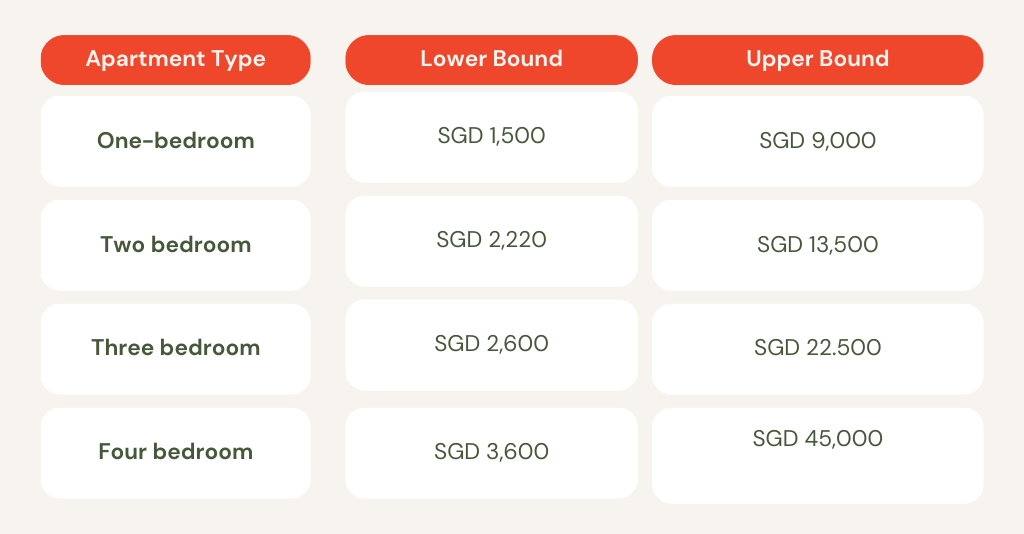 (Source: PropertyGuru.com.sg property search – market asking rates)
Given the expensive nature of luxury apartments, many expatriates opt for flat sharing in Singapore. FoBis recommends using licensed real estate salespersons to assist in renting a room or apartment. Alternatively, we suggest clients search on reputable portals such as propertyguru.com or 99.com. There are opportunities to find shared rooms for as low as $700 per month, including options for women-only flats.
 For clients on a budget, ForBis highly recommend our clients look at public housing (HDB flats). Unlike other countries, 77% of the resident population owns their own HDB flats, and it is not only well-taken care of by the government & populace and is often more convenient than private housing. They are usually near public transport, including clinics, supermarkets, public libraries, swimming pools, sports and hawker centers.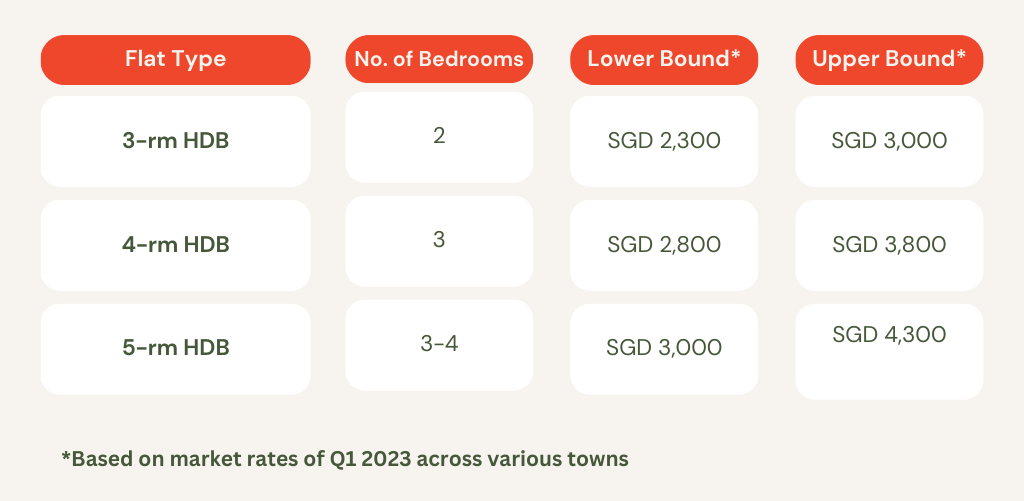 Medical & Dental Costs 
Singapore is renowned for its exceptional healthcare system, considered the best in Asia and among the finest globally. The government has dedicated substantial resources to healthcare, quadrupling its expenditure from 2007 to 2019, reaching an impressive $11.3 billion. Singaporean citizens benefit from free public healthcare, including significant treatment coverage through MediShield Life, a mandatory public health insurance program. However, this public health insurance cost has been steadily increasing, with certain groups experiencing price hikes of up to 35.4%.
For individuals who do not qualify for public healthcare in Singapore, the expenses for medical treatment must be paid out of pocket. These healthcare costs can be notably high, particularly for major treatments. Therefore, ForBis recommends our clients secure at least a rudimentary local medical insurance. We work with several reliable partners offering competitive rates and comprehensive coverage for locals and foreigners. 
Health insurance in Singapore is comprehensive, with all citizens and permanent residents covered by MediShield Life for essential hospital treatments. However, additional coverage can be obtained through an Integrated Shield Plan (IP) and IP riders. The premiums for IPs vary based on age, with individuals in their 30s paying around $450 per year and those over 70 paying approximately $1,800 per year. Expatriates in Singapore can opt for expat health insurance, which starts at around $550 per year for individuals in their 30s and increases with age and pre-existing medical conditions.
When visiting a doctor in Singapore, a trip to a General Practitioner (GP) clinic typically incurs consultation fees ranging from $25 to $50. At polyclinics (government-linked), foreigners pay $57.24 for medical services at general clinics and $76.90 at Family Physician Clinics. Private clinics, on the other hand, charge consultation fees of around $80 and above. It's important to note that these prices exclude any additional charges for weekend visits and medication costs.
Dental services at public polyclinics start from S$36.50 for non-residents. Do note that fees for emergency dental services (without an appointment or suffering from severe pain, swelling & bleeding) start from S$75.60.
Transport
Singapore boasts an advanced and comprehensive Mass Rapid Transit system, the MRT, encompassing the entire city. Comprising six lines and 134 stations, this efficient metro system integrates seamlessly with the extensive bus network, allowing passengers to switch between rail and bus without additional charges. Starting in March 2022, the MRT implemented a fare structure based on the distance travelled, ensuring that passengers are not required to pay full fares for short journeys consisting of only a few stops. The fares for the MRT are reasonably priced, offering an affordable and convenient mode of public transportation throughout Singapore.
Consequently, the maximum fare for a single trip on the MRT is SGD$2.26 unless one opts for the Express Service option. In addition to the MRT, Singapore provides well-connected cycle lanes, encouraging many residents to choose bicycles as their preferred mode of transport. Moreover, Singapore boasts well-maintained and high-quality roads, making travel via taxi or private hire (E.g. Grab, GoJek) a breeze. Fares for taxis or private hires typically range between $12 to $35 depending on the time, pick-up location and destination.
However, owning a private vehicle in Singapore can be exceedingly expensive due to the imposition of additional taxes, such as the Additional Registration Fee, Excise Duty, Certificate of Entitlement, and the Vehicular Emissions Scheme charge. The certificate of entitlement – which allows you to own a vehicle for up to 10 years – of a sedan alone currently costs around S$100,000. Additionally, the price per gallon of petrol is roughly S$8.60.
Gym & Swimming
ActiveSG is a government initiative that offers affordable sports and fitness facilities across Singapore. The cost of using ActiveSG gyms and swimming pools is relatively lower compared to private gyms. The entrance fees for ActiveSG gyms are around SGD 2 to SGD 3 per entry while swimming pool charges are typically around SGD 1.50 to SGD 2 per entry. ActiveSG also sells annual passes for as low as S$80 per year (gym) and S$10 per month (pool). Private gym memberships can range from SGD 100 to SGD 300 per month, depending on the facilities and location.
Other Sports Facilities
The cost of other sports facilities, such as tennis courts, badminton courts, and sports halls, can vary. ActiveSG sports facilities generally offer more affordable rates compared to private sports clubs. Prices can range from SGD 5 to SGD 20 per hour for ActiveSG facilities. Private sports club fees vary widely depending on the specific club and its amenities.
Entertainment
Movie ticket prices vary depending on the day of the week. On weekdays (Mondays to Thursdays), tickets cost approximately $10, while on Fridays and weekends, they range from $14 to $15. If you buy alcohol at a bar in the city centre, be prepared to pay a high price, with a pint of beer costing around $10 to $15. If you're looking to save money, it's advisable to make friends who only sometimes insist on going to fancy places. By doing so, you can bring your own alcohol (BYOB) and use the money saved to engage in more affordable activities such as picnics, cycling, hiking, or enjoying Netflix.
Apart from food, travelling is a popular pastime for Singaporeans. If you're interested in a quick trip to a nearby location, you can expect to spend as little as $5 or more for a train ride to Johor Bahru (or even less if you opt for a bus). Alternatively, a two-way trip to Batam will cost you around $70 or more. For destinations further away, such as Tokyo, you can anticipate spending at least $500 for a round trip, while a round trip to Europe will likely cost you at least twice that amount.
As a transport hub, there are always multiple flights to numerous countries daily with very competitive prices. Locals and expats alike enjoy taking advantage visiting the various south-east Asian countries multiple times a year. 
Utilities
Singapore needs to import natural gas for around 95% of its electricity supply. The average monthly utility (electricity, gas & water) bill for a household with gas is S$119.49 for an HDB 3-room and S$164.05 for an HDB 5-room. If you're renting a bed space or a room, some landlords may include the cost of utilities in the rental fee, while others may ask you to share the bill at the end of each month.
Toilet paper typically costs between $4 and $8 for a pack of 10 rolls. A 3L laundry detergent container can be purchased for less than $10; dishwashing liquid is usually available for half that price.
Telecoms 
The cost of telecommunication services in Singapore can vary depending on the provider, package, and data allowance. Mobile phone plans can start from around SGD 20 to SGD 40 per month. Broadband internet plans for home use typically range from SGD 30 to SGD 80 per month, depending on the speed and data allowance.
Eating Out
Regarding food options in Singapore, there are various price ranges. For instance, if you opt for hawker food or casual dining, you can expect to pay as low as $3 to $6 for a meal at a suburban hawker centre, excluding beverages. On the other hand, if you prefer casual dining at a mid-range restaurant, you should budget approximately $20 to $30 per meal.
For those seeking a more upscale dining experience, Singapore offers a plethora of fancy restaurants led by renowned chefs. However, it's important to note that fine dining in Singapore comes at a significant cost, as the city ranks second most expensive globally. A meal at one of these establishments can range from $100 to $500 or even more per person, especially if you decide to indulge in wine.
When it comes to coffee and tea, the prices can vary depending on the type of establishment. A local coffee known as "kopi" at a hawker centre typically costs slightly over S$1. Conversely, if you prefer a Western-style cafe or a popular chain like Starbucks, you can expect to pay around $7 to $9 for a cup of coffee.
Conclusion
Singapore's cost of living is generally higher than other countries, primarily due to the high rental prices. However, with a decent salary and careful budgeting, it is still possible to have a high-quality lifestyle in the country. Expatriates in Singapore should consider accommodations, healthcare costs, transportation expenses, gym and sports facilities, entertainment, utilities, telecoms, and dining out when planning their budget. While some aspects, like public transportation and government-subsidized healthcare, can be relatively affordable, others, such as private housing and fine dining, can be expensive. By understanding and managing these costs, expatriates can make informed decisions to ensure a comfortable life in Singapore.
If you have any further questions or need personalised advice on navigating the cost of living in Singapore, we encourage you to contact us. Our experienced team is well-versed in providing guidance and assistance tailored to your needs. Whether it's finding affordable accommodation options, understanding healthcare options, or exploring ways to save on daily expenses, we are here to help you make informed decisions. Don't hesitate to reach out to us for expert advice and support in making the most of your experience in Singapore.