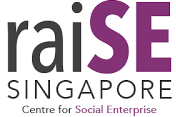 raiSE Singapore is a social enterprise was officially launched 2015 by Dr. Tony Tan Keng Yam, former President of the Republic of Singapore on 27 May 2015. Their vision is to create sustainable social enterprises for a caring and inclusive society in Singapore with raising the awareness and supporting Social Entrepreneurship.
As a social enterprise & a member of raiSE Singapore, ForBis Accounting is an advocate of #EqualOpportunities. We support individuals with special needs or at-risk and mothers struggling to return to the workforce.
ForBis Accounting has also extended credit terms, subsidies and free services to other social enterprises, non-profit organizations and charities.

NS Mark is a national-level accreditation scheme that was launched back in August 2016 to recognize businesses and organizations that have implemented policies and HR practices to support National Services (NS) and Total Defense (TD).
This accreditation scheme is composed of 2 tiers – the NS Mark and NS Mark (Gold).
NS Mark is the basic tier that acknowledges businesses and organizations to pledge their commitment and support for NS and TD. And, the NS Mark (Gold) is awarded to businesses and organizations that have demonstrated exemplary support through implementation pro-NS of policies and HR practices as well as advocating support for NS.
ForBis Accounting has been awarded a Total Defense Award (TDA). With the incorporation of the Home Team National Service Awards for employers in 2015, the TDA is now the highest national accolade that acknowledges exemplary individuals, small and medium enterprises, large companies and organizations for their outstanding support towards strengthening the defense of our nation.